Blog
Trends for Thanksgiving Kitchen Decorating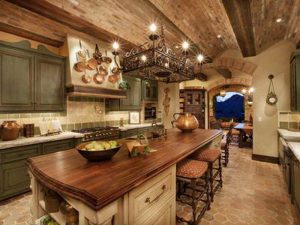 When it comes to creating a cozy and welcoming space in your home, the kitchen is one of the most ideal rooms to decorate for an area that celebrates the season. For those wanting to bring the outdoor weather indoors, the kitchen is a great place to decorate for the fall and to celebrate Thanksgiving. When looking to incorporate fall colors and create a warm environment, there are a few top trends to consider.
1. Use Antique Pumpkin Cans for Bouquets: A house isn't a home without a few bouquets of hand-picked fall flowers in the kitchen. To enhance the aesthetics of the room, use antique tin cans to hold the bouquets. You can also use twine or ribbon to tie around each can for a decorative touch that is a creative alternative from clear vases. Consider using sunflowers or heleniums for fall colors that will add warmth to the home.
2. Fill Mason Jars with Orange Leaves: An easy and affordable way to dress up a kitchen Cincinnati for the season is by filling glass mason jars with leaves that you gather right in your own yard. Consider adding a few pumpkins or apples in the jars for added detail that incorporates more dimension to the display. The jars can also be wrapped with burlap for a rustic touch that is anything but commercial.
3. Use a Chalkboard: Celebrate the fall season by adding a chalkboard to a kitchen Cincinnati, which can detail the dinner menu for the week or include fall sayings that are fun to read. This will add a rustic touch that symbolizes the beginning of the school year and can be a refreshing way to relay different messages that create a welcoming tone. You can even make your own chalkboard by using an empty frame and painting the glass with chalkboard paint.
4. Create a Candle Centerpiece: For a fall centerpiece that can be used on a kitchen island or on a dining table in the room, use brown beer bottles that are of different shapes and sizes. The bottles should have the labels removed for an antique style that looks eclectic. After gathering the bottles, use them as candlestick holders for a beautiful centerpiece that will illuminate the room in the evenings.
5. Hang Wreaths on Windows: To enhance the aesthetics of beautiful bay windows in a kitchen or a large window that sits above a sink, hang a natural fall wreath in front of the pane for a decorative touch that adds extra detail to the room. Use twine or burlap to hang the wreath from the top of the window.
When it comes to decorating your kitchen this Thanksgiving, there are a number of top trends to embrace for easy additions that will add warmth to the room. It will not only create a welcoming environment for your guests, but will make it enjoyable to bake in the space during the cold season.