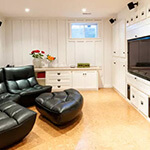 10 things to consider when remodeling your basement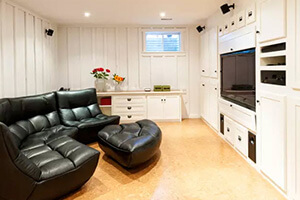 Whether it's a place for the kids to play on a cold and rainy day, or a space to create that workshop, hobby, or exercise room you've always wanted, a great way to add value to your home and increase your living space is by finishing or remodeling your basement.
Professionals advise keeping in mind the general rule that the appraised value of underground space is about half of what lies above — try to stay between 5-10 percent of your home's value when finishing or remodeling your basement. Think of uses for a basement that appeal to a wide cross section: casual family room, extra bedroom, home office, etc. If return on investment is not a concern, then the sky's the limit on making your basement transformation uniquely you: wine cellar, game room, or maybe even a ballroom, if dancing is your milieu.
Whatever your vision is, here are a few simple tips for getting the most out of your basement remodel: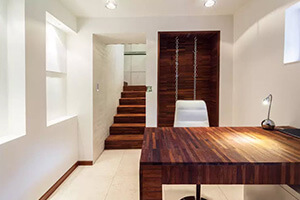 1. Make a family room or rec room: Basements provide the perfect setting for casual social gatherings for the whole family or just the kids. It's a great spot for a big screen TV, pool table, dart board, and crafts. Make the space inviting by decorating it similarly to your upstairs rooms. Also, make it comfortable and functional by opting for cozy furnishings that can be rearranged to accommodate a few people or a crowd.
2. Include a bedroom and bath: A bedroom and full or half bath makes an excellent suite for guests and teens. Consider who will most likely be using the space to determine the best dimensions. For example, if you want a double bed to fit, you'll need a room with a minimum of 125 square feet. If twin beds fit your needs better, then plan on 150 square feet. Building codes also require that basement bedrooms have an emergency exit that leads directly outside, either through a door or a window.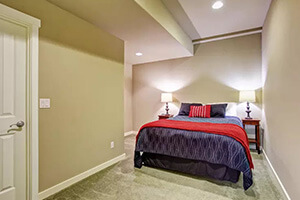 3. Add a kitchen or laundry room: A wet bar or kitchen in the basement not only makes entertaining easier, but it also turns a basement with a bedroom and bath into a complete guest suite. Keep in mind that a basement kitchen will require access to hot and cold water and electrical outlets for things like a refrigerator, dishwasher, small countertop appliances, and a microwave oven. A basement laundry room is great if you want to keep your "dirty laundry" out of sight, but it will require a floor drain and access to outside wall to vent the dryer.
4. Make a plan for windows and doors: Adding or enlarging basement windows and adding exterior doors are jobs that should definitely be left to professionals, but the resulting increase in natural light and ventilation will make your basement living space that much more enjoyable.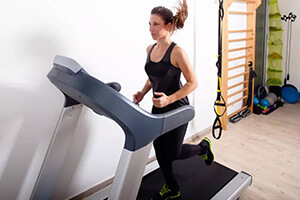 5. Add an attractive staircase: Of course you already have stairs into your basement, but remodeling offers the opportunity to move them to a better spot if they aren't in a convenient location, provided they meet code. If you do move the location of the stairs, take into consideration which areas you are connecting — you don't want to connect a noisy area to a quiet one (e.g. stairs that lead from a first-floor office to a basement game room).
6. Choose practical, comfortable flooring: Unless a plywood subfloor has been installed, your basement floor is likely a concrete slab. The good news is that concrete accepts most flooring options, from paint or vinyl to laminate, tile or carpet. Most solid wood flooring is not recommended for below-grade installations as it shrinks and expands, resulting in gaps and warping.
7. Finish basement ceilings: There are three basic options for basement ceilings: conceal the pipes, joists and ductwork with drywall or paneling; hide everything with a suspended or drop ceiling; or leave everything exposed and paint it.
8. Finish basement walls for inviting ambience: Foundation walls are typically made of poured concrete or stacked concrete block — materials that reinforce the feeling of the basement being a secondary space. To give your basement a more "main-floor" style, cover concrete walls with drywall, paneling, plywood or paint.
9. Build in storage: The basement is often the catch-all storage area for out-of-season clothes, holiday decorations and tools. When planning your basement, make the most of the square footage by creating well-designed storage areas.
10. Say goodbye to gloom with ample lighting: A good lighting plan is paramount in creating an inviting space where people will want to congregate. In addition to recessed lighting that provides great overall illumination, consider track lights and pendants to eliminate shadows on surfaces for playing, reading, or working. Table and floor lamps banish shadows in corners and provide task lighting beside chairs and sofas.