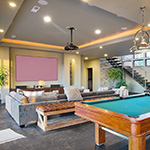 5 tips for converting your basement into an amazing home theater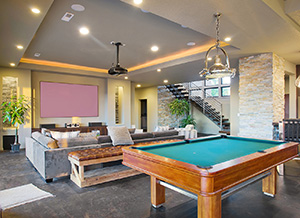 Sometimes, there's nothing better than a cozy movie night at home. No crowds to contend with, no overpriced popcorn, and you can wear your pajamas, if you want. Throw in some high-quality audiovisual equipment and comfortable seating, and you can transform your basement into the ultimate home theater experience.
Why the basement? Because, when it comes to a location for a home theater, you want a room with few doors and windows and isolated from sound. Plus, you'll save yourself money you might otherwise have spent on expensive window treatments to keep light out and insulation installation to keep sound in.
Here are five tips for turning your basement into an amazing home theater: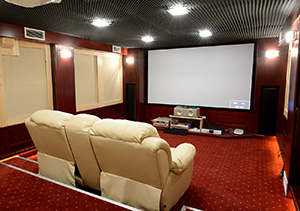 1. Display screen location: A huge display screen is the crown jewel of any home theater system — just make sure it fits the size of your room and the home theater seating arrangement. Be sure to mount the screen on a wall that does not receive direct light and is visible from all areas of the room, such as the bar or pool table. Can't afford a screen? Paint drywall in matte white paint to transform it into a fixed-frame screen.
2. Quality sound system: A typical home theater consists of a 5.1 surround-sound system, with three speakers and a woofer toward the front of the room and the remaining two speakers placed slightly behind the theater seating. If your basement ceiling is unfinished, installing acoustic tiles is a relatively cheap way to cover it, and you'll get sound benefits from it.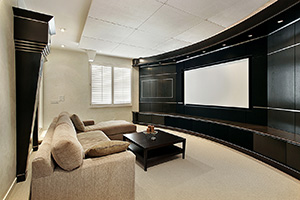 3. Best basement media room color palettes: Keeping the room as dark as possible is key for optimal screen viewing. When choosing color for the walls, stick with black or dark paint hues in a matte finish, as gloss and semi-gloss options might lead to reflection from the theater screen. For the floor, carpet is the best option for comfort and sound, and as with the walls, darker is ideal.
4. Comfortable seating: Plentiful, comfortable seating is essential for an enjoyable moving-watching experience. The first thing to consider is the number of people you hope to fit into the room — the size and shape of the seating you choose will depend on this factor.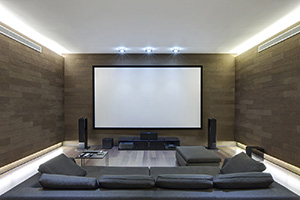 5. Build a bar area: The only thing better than watching your favorite movie on your own home theater screen is having a drink in your hand while you're doing it. Whether you want to enjoy a cocktail while taking in "Casablanca," or have your friends over to watch the Big Game with cold brew straight from the tap, nothing will bump your home theater experience up a notch quite like a basement wet bar.
The experienced professionals at Craftsmen Home Improvements can help you convert your basement into the ultimate home theater. We deliver affordable, top-quality products, materials and craftsmanship to homeowners in the greater Cincinnati and Dayton areas, and we're the only contractor to feature the Mold Fighter Basement Finishing System.