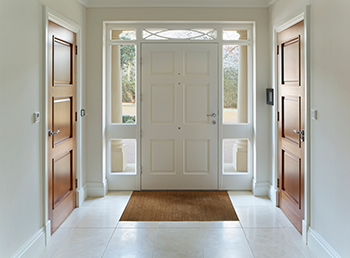 Guide to choosing flooring for your home's entryway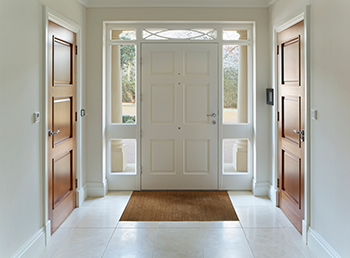 Second only to your front door, nothing else says "welcome" like your entryway. Some entryways are large and more formal with a foyer, and others are more understated, simple transitions from outside to inside.
Whether you have an elegant entry or a modest place to welcome guests, your entryway sees it all: wet shoes, muddy cleats, dripping umbrellas, soggy leaves, salty snow boots. These high-traffic areas welcome people and pets alike, which means they need a durable flooring option to keep up with the fast-paced, adventurous, outdoor-loving lives you and your family lead.
Every flooring option conveys a particular style and carries certain advantages and disadvantages. When it comes time to replace your floors, consider all your options so you can select the right one for your home and lifestyle.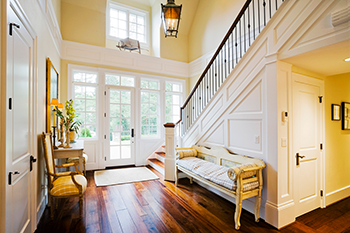 Luxury vinyl tiles: Luxury vinyl tiles are simple to remove and replace down the road when your style changes. In most cases, luxury vinyl tiles are more cost-effective to install because they don't require grout or preparation to the sub floor like tile. Similar to tile, there are a variety of sizes and color options to match your room, they clean easily, and they hold up to the wear and elements that an entryway endures.
"Luxury vinyl tiles are waterproof, scratch-resistant, kid-proof, and pet-proof," said Doug Readnower, co-owner of Craftsman Home Improvements. "There are a variety of wood-looks, from traditional hardwoods to hand-scraped barn wood and everything in between, and it's so realistic-looking. We've installed that instead of hardwood on many projects."
Porcelain tile: Able to withstand water and easy to clean, tile is an excellent choice for an entryway. Tiles can be made to look like natural stone and offer an extensive color pallet. Tile comes in a variety of sizes and can be laid in a variety of patterns. If you choose tile, work with your contractor to select a darker grout, which will show less dirt.
"Porcelain is more expensive to put down over a sub floor, like a basement or crawl space, because you have to put cement board down first, and that's more labor intensive," Readnower said. "Again, the wood-look porcelain tiles are beautiful, and we do a lot of those as well."
Hardwood or engineered hardwood: Hardwood flooring is beautiful and timeless. It might be the right option for your home if you have a small entry area and are looking for flooring to be consistent from the entry to the living space. When it comes to wear-and-tear, hardwood floors can be restored by recoating, but they aren't a great solution if puddles of water are left in your entryway.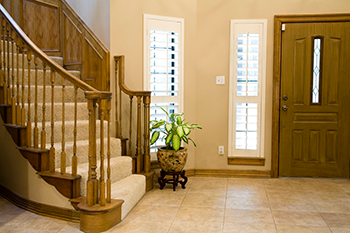 Laminate: Laminate flooring options with wood-look finishes might also be an option for your entryway. Easier to replace and less costly than hardwood, laminate usually has a particleboard substrate which can't withstand water damage like some of the other options. If you're looking for an affordable solution and aren't dealing with kids or pets, laminate could work in your entryway.
Cost, upkeep, style and durability are all important factors to take into account when selecting your new entryway flooring. With so many options and things to consider, you'll want to be sure to work with a professional installer to understand each option and the benefits and drawbacks to each, so you can make a selection that is both functional and fabulous.