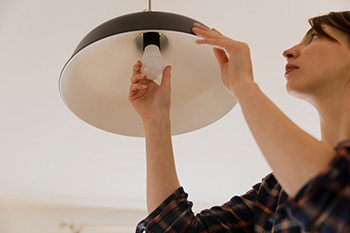 Tips for a brighter home in fall's shorter days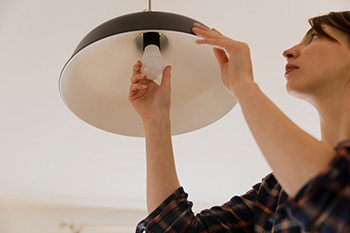 Leaves crunching under feet, cooler temperatures, digging out jackets, and saying farewell to sandals are all signs that fall is upon us.
When the days get shorter and the nights become longer, you probably find yourself inside more, reading, working on projects, or completing tasks after dinner when it's dark outside. Maybe you've realized there simply isn't enough light to work by in your kitchen, or there are dark corners in your living room that have been driving you just a little crazy.
With the earlier evenings of fall upon us, here is how to solve some of the illumination problems that less daylight has brought to your attention…
1. Make the switch
When it's time to flip the switch and turn on your lights, the light bulb you choose makes all the difference in your home's indoor light quality. Today, LED lights are all the rage – not only are they energy-efficient, but they also provide a more natural light without casting a yellow hue.
"LEDs have rendered obsolete the CLF lights we've all been using for years," said Doug Readnower, co-owner of Craftsman Home Improvements. "LEDS burn 50,000 hours, burn cooler than CFLs, and use very little energy."
You can switch your existing light bulbs for LEDs bulbs all at once, or one at a time as the current ones burn out. Either way, it makes good sense to consider LED options in every room.
"Throughout your house, in recessed lights or bulbs in regular fixtures, using an LED is the way to go," Readnower said. "Replacement bulbs are down to about a $1 apiece, so it doesn't make sense to buy anything else."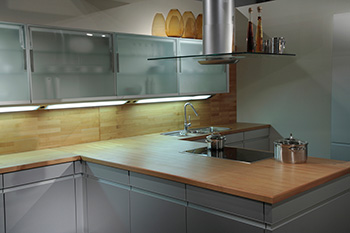 2. Renovate and illuminate
"If you are planning renovation of any sort, the lighting is the icing on the cake," Readnower said.
Whether you're remodeling a bathroom, finishing your basement, gutting your kitchen or adding an addition, when your house is a construction zone, it's the best time to evaluate your lighting needs and work with a licensed contractor to have the best lighting added.
"When you're doing renovations is the best time to add lighting because you have access to walls and ceiling," Readnower said. "You should always challenge whether you have sufficient lighting in the space now. Turn on the lights when it's dark and see if it feels like the light is bright enough to suit your needs."
Dedicated task lighting above work spaces in the kitchen is essential, and plenty of can lights in a basement will create a more inviting space where you and your family want to spend time.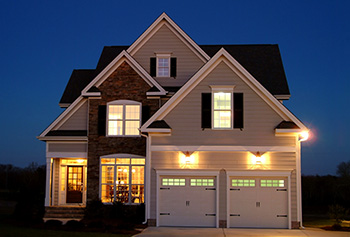 3. Don't forget to add lights outside
When it's dusk outside and you're just pulling in your driveway after a day at work, adequate outside lighting can make taking out the trash, letting the dog out and tending to other outdoor tasks more manageable. The best time to add lighting outside is during the construction of your home, or during renovation for an addition.
Adding motion-detection spotlights in the front and back yards will make sure you can see after dark. And this outdoor lighting isn't only a matter of convenience — it's a matter of safety. Well-lit areas deter unwanted visitors.
Photo-sensitive switches are also excellent choices for outdoor lamps, as they can be set to come on automatically when it gets dark.
Adequate lighting shouldn't be a luxury. Take the time to change out bulbs in and around your home with more efficient LED lights, and when it's time for renovations to occur, account for all your lighting needs, both indoors and out.