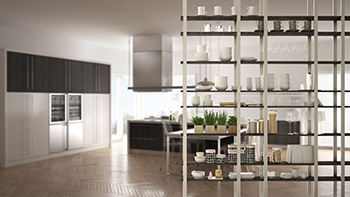 Open shelving: A hot trend in kitchen remodels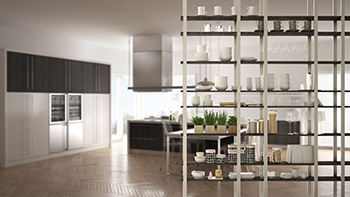 Open. Exposed. On display. No, it's not a bad dream where you find yourself on stage without your clothes. It's the latest trend in kitchen storage: open shelving.
Without cabinet doors to hide the things you store in your kitchen, you might feel a sense of vulnerability, like your secrets are being revealed. But open shelving in the kitchen, while indeed trendy, also has staying power and some great benefits.
If you're thinking about renovating your kitchen, replacing standard cabinets with open shelves is a great way to transform your space and can be a cost-saving strategy, as well.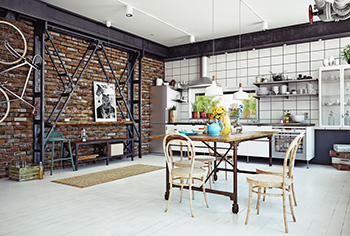 Open shelves in the kitchen allow you to:
1. Display your dishes (and other fun stuff): Beautiful things don't just have to be for display, and practical things shouldn't be hidden behind cabinet doors. With open shelves you can display the expensive dishes you received for your wedding, jars of dried goods, and family heirlooms. The juxtaposition of beauty and practicality shows your personality and makes your home feel lived-in, less stuffy, and uniquely yours. The colors and textures add visual appeal and richness.
2. Maximize space in your kitchen: Open shelving is ideal in smaller kitchens. Cabinets take up physical and visual space. Replacing the cabinets with shelves opens up the room and creates visual interest, which is great solution to maximize small spaces. With open shelves, you also won't have an awkward corner cabinet, which can be tricky for storing and accessing items.
3. Infuse your kitchen with individuality: Not only do shelves allow for the unique display of attractive and everyday items, the shelves you select will have a personality all their own. Shelves can be made of raw wood with piping supports for a rustic or farmhouse feel, or constructed from stainless steel that gives your kitchen an industrial or modern vibe. No matter what material you select for open shelving, it's an opportunity to express yourself.
4. Practice practicality: If you're the chief cook and bottle washer, you'll love having your everyday kitchen equipment, ingredients, and supplies within arms reach. Your stainless-steel mixing bowl is not only beautiful and functional, but in plain sight and easy to access, use, and put away.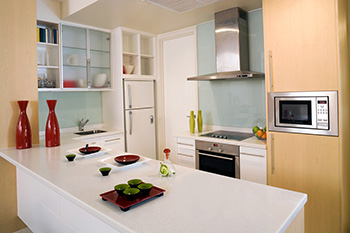 5. Offer hospitality, without really trying: When your glasses are in plain sight, guests can comfortably help themselves to a glass of water. When your dishes are easy to find, guests feel at home in your home. And as a bonus, when it's time to clean up and put dishes away, company feels empowered to stack the dishes with the matching ones they can see on the shelf.
6. Stretch your renovation budget: Shelving is an inexpensive alternative to kitchen cabinets. Not only are the raw materials for shelving less expensive when compared to upper cabinets, you might save money on the manpower required to install them, as well. With the money you're saving on cabinets, you might feel like splurging on new dishes to display, or make room in your budget for your dream stove.
If you love the idea of open shelves but also want to hide a few things behind closed doors, a mixture of shelving and cabinets might be the way to go. Some people also opt for glass-front cabinets, which allow for items to be on display but protected from dust and grease; however, this option doesn't offer the cost saving provided by open shelving.
When it's time to renovate your kitchen, consider all the options. The practicality and budget-friendly benefits to open shelving might be exactly the right fit for your kitchen.