Loading
Craftsmen Home Improvements, Inc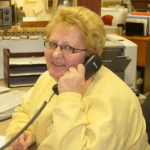 Wanda has been in the construction and remodeling business as a full charge bookkeeper and office manager for over 25 years, with over 12 years at Craftsmen Home Improvements.
Her role with Craftsmen is to provide the best possible customer service.
Wanda has been married to her husband for 22 years and is the mother of five children and grandmother of nine grandchildren. When not at work, she enjoys spending time with her family.