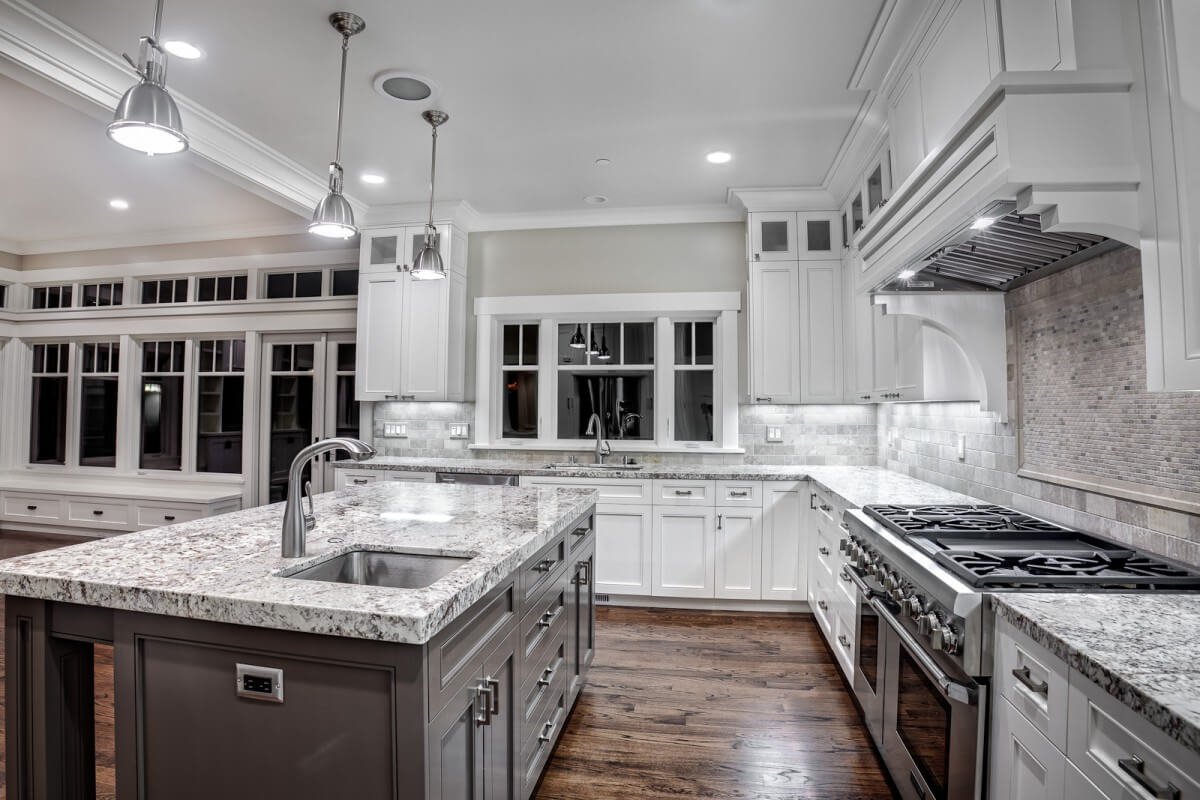 Countertop materials – What's your best choice?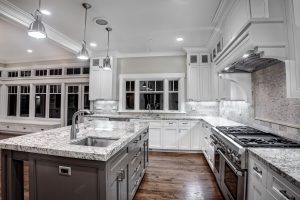 It used to be true that there were only a few materials available for kitchen countertops and everyone had some variation of them in their home. Now there is a dizzying array of materials and designs at the ready for every taste and budget. Here are few of the top countertop materials and the pros and cons of using them in the home.
Granite: For years, granite has been the top-shelf choice for kitchen countertops. It is a natural stone distinguished by veining and variations which enhance its attractiveness. Much beloved for its beauty and design impact, granite can be expensive. It is a porous material and must be sealed to keep from being stained from fluids. Granite is durable and heat resistant, but can crack or chip if a heavy object is dropped on it.
Quartz: Quartz, also known as engineered stone, is a top rated countertop material. It is durable, not porous and does not need to be sealed, but requires protection from heat and can be difficult to repair if damaged. This material is made from resin and quartz chips which have been artificially colored. Engineered stone countertops are popular for their beauty and offer a good alternative to granite.
Marble: Marble is an ultra-traditional choice for countertops. A completely natural stone, it has a wide range of natural patterns which increase its elegance as a design choice. It is the go-to stone for pastry chefs, who prize it for its natural coolness which keeps dough from becoming tough. Unfortunately, even when sealed, marble can stain, scratch and chip.
Stainless steel: In complete contrast to marble, as its name suggests, stainless steel is impervious to staining. It cleans up marvelously and is preferred for its antimicrobial properties in institutional and high traffic countertops. As a design choice, it does have a minimalist cachet, but requires frequent cleaning to eliminate fingerprint smudges.
Soapstone: Soapstone countertops are familiar to many as the material of choice in their high school chemistry laboratories. This material resists stains well, yet requires regular oiling. It blends well with a range of decors, but can crack and require costly repair.
Laminate: Laminate is a manufactured material made of resins blended into paper and fused onto particle board. As a kitchen countertop staple for decades, it has lacked style quality in the past, but new designs mimic more expensive materials with impressive results. It is affordable, low maintenance and easy to clean, but it can be susceptible to burns and scratches.
Concrete: With new fabrication technologies which make it lighter than ever before, concrete has come into its own as a countertop material. Inlays of shells and rocks can make it a unique design choice. And concrete has some impressive energy-friendly qualities: it absorbs heat when the room is hot, cooling it off. And when the temperature drops, concrete releases its heat back into the room to warm it.
Wood: Wood countertops create a warm, traditional look for kitchens. Wood is resistant to heat, so hot pots and pans can be rested on it. But wood requires sealing to be clean and safe for cutting meat products. As with all natural products, wood can be pricey, but creates its own look of luxury when used in the kitchen.
Glass: Glass countertops create a clean, sleek modern look and have the advantage of being able to be cut into any shape and stained to any color. Due to this flexibility, this material can be adapted to any choice of décor. Since it is non porous, glass is easy to clean and stain resistant. But it's still glass and needs to be tempered and be at least one inch thick to be durable in the kitchen.
Paper Composite: Paper composite is a newer countertop material made by mixing resin with paper fibers to create an eco-friendly and surprisingly durable surface. It withstands heat and water, and is naturally lighter than stone or concrete. Paper composite countertops are prone to chemical damage and need to be oiled with mineral oil (and require occasional sanding) to maintain the surface. Even though it seems like a paper product would be a budget-conscious choice, this material is somewhat expensive, which has limited its popularity.
Tile: Tile countertops are made with ceramic, glass and porcelain tile in an extensive range of styles and colors, which can be further mixed and matched to produce an almost infinite variety of patterns. Tile must have sealed grout to be easy to clean. And if tiles become uneven they can be cracked or chipped if cookware is dragged over the surface. In terms of budget, the tile is not necessarily expensive, but installation can be pricey, so homeowners need to cost out the entire project before making a decision.
The many varieties of countertop materials present homeowners with an opportunity to make unique design decisions. To get advice on your countertop, visit us online at Craftsmen Home Improvements.