Bathroom remodel: The most frequently asked questions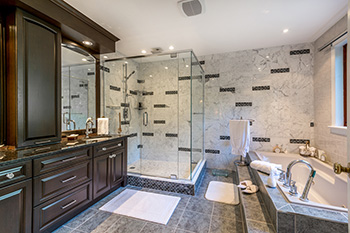 New Year, new you, new bathroom? The New Year is a great time to take on a bathroom remodel in your home. After the holidays are over, wintertime tends to be a slower sales period for bathroom supplies and fixtures. And since many people attempted to complete their renovations before the holidays, showrooms can be deserted. This means you can receive focused attention from sales staff and potentially an easier time negotiating deals.
If you're considering giving your boring master bath a makeover or are ready to renovate your hallway bath in 2019, here are some answers to the most commonly asked questions when it comes to bathroom renovations.
How much does a bathroom remodel cost?
According to Remodeling Magazine, in 2018 the nationwide average cost of a hallway bathroom that's approximately 5-foot by 8-foot is $18,000. Larger master bath projects can easily be twice that much and more. Being a savvy shopper and selecting middle-of-the-road finishes and fixtures can bring that cost down a little.
Bathrooms at the high end of that budget include tearing everything out, adding tile surrounds and installing top-of-the-line fixtures, said Doug Readnower, co-owner of Craftsmen Home Improvements.
"That includes all the luxury items you might want," Readnower said. "The average for us at Craftsmen can be lower than the national average. We are a remodeler for the masses. We are selling good quality stuff but not at high-end prices."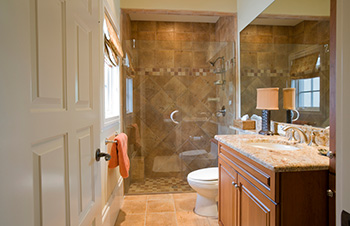 What's the average length of a bathroom remodel?
Every remodeling project has its own timeline built around the homeowner's needs and desires.
"A typical hallway bathroom is generally one-to-two weeks, once it's started," Readnower said. "Larger master baths with a tub and shower, double vanity and tile everywhere would be closer to four-to-five weeks."
Can I use high-end counter tops in the bathroom?
Luxury bathrooms call for luxury countertops. Long gone are the days of molded plastic countertops. Today's homeowners are taking the granite and quartz they love in their kitchen and installing it in the master bathroom.
How can I make my shower a showpiece?
Like molded plastic counter tops, molded showers are also being installed less frequently in homes. With so many ceramic tile choices – from colors, to patterns, and mixing and matching different options – ceramic shower surrounds with glass door enclosures are an excellent way to make smaller spaces feel larger and create a work of art.
Are there things we can do in the bathroom that are different or unique?
If you want to make your bathroom stand out, you could select unique fixtures, finishes or colors. However, if you also want your new bathroom to stand the test of time, permanent parts of the remodel aren't always the best places to show off your unique flair. Remember the pink square tiles from the 1950s?
One unique option would be to install a rolling barn door instead of a standard bathroom door. If or when trends change, a door is relatively easy to switch out. Then you can finish off the bathroom with unique art, towels and other accents to show off your personal style.
If a bathroom renovation is at the top of your list for home projects to tackle in 2019, don't delay. Get your budget in order, select an experienced contractor, and start visiting showrooms today. With an experienced contractor on your side, you could be enjoying your new bathroom before the daffodils start blooming.