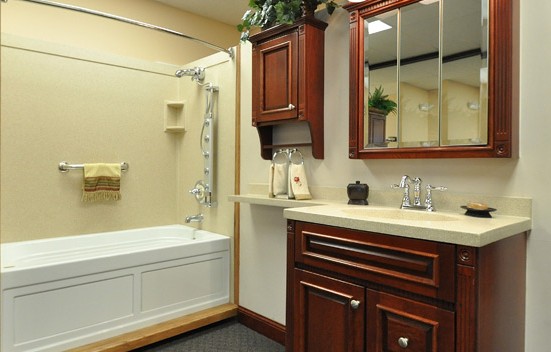 Increase the Size of a Small Bathroom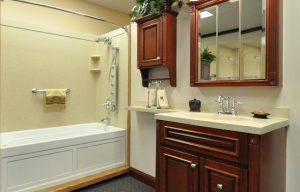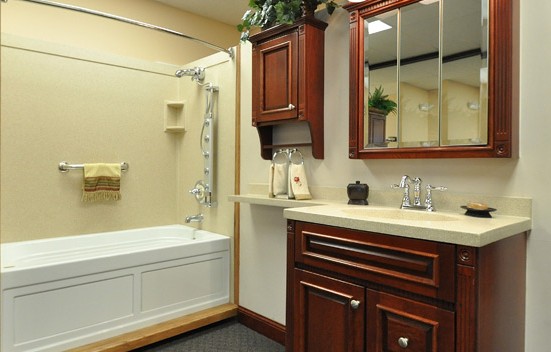 Everyone wants that perfect bathroom, that spa-like place where one can go to be alone, relax and pamper themselves. Unfortunately, the reality for most people is a cramped little room with just enough room for a toilet, sink and shower, if you're lucky. However, there are certain techniques you can do to make a small space look larger, almost like an optical illusion.
The first thing you should do is empty out the space, and get rid of any clutter. If there is makeup or toiletries that need to stay, add a sleek drawer or container to put them in. This storage can go under the sink or if it is stylish enough, it can become the room's centerpiece or main decoration.  You can also go ahead and get rid of any big decor in the room, these things only take up space and make the room look smaller. Instead, opt for one main decoration that is cohesive with the colors and atmosphere of the room.
One of the best ways to increase your space is with paint. The right color can create an openness which can impact a small bathroom, dramatically. Now you have to decide which color to use. Stay away from darker colors. Light does not reflect off these colors well and it will darken the room and make a small space look even smaller. Light shades are your friend! These colors brighten up a room and feel more free. If you have windows in your bathroom that is great! Avoid large curtain that might cover up the windows and the natural light coming through. Natural light will make the space seem wider and light up the bright colors.
The next thing you can do to expand the look of your room is by adding mirrors, or getting one big mirror. Mirrors give the impression of a larger space by reflecting the room. Adding a mirror that is the length of an entire wall will make the room look a lot bigger and this is a cheap option compared to an actual addition.
It's hard to find enjoyment and relaxation in a tiny bathroom, but before you pull out that check book and start smashing down walls, try a few of these tricks. The tips listed above will make your bathroom look bigger and you won't have to make any expensive additions. Instead, go spend the extra money on that pool you've always wanted!