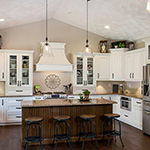 5 kitchen remodel trends for 2017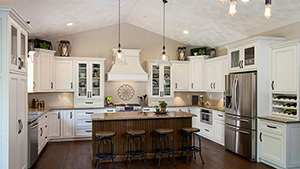 It's tax season, which means many people are looking for the best way to invest their tax returns in their homes. Kitchen and bath remodeling are the first to come to mind, because both provide the largest return-on-investment. Infusing your home with the latest interior styles will help improve your property value and ensure that your renovation is beautiful and functional.
Staying abreast of the most popular designs of this season can help you make decisions throughout your upcoming kitchen remodel. Here are five trends that you should keep in mind…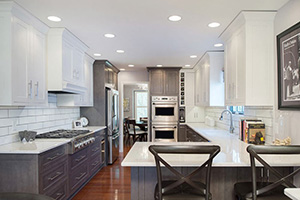 1. Hints of metal:
From stainless steel appliances to copper countertops, metal has been prominently displayed in kitchens for the last several years. Although it is still a popular material, the presence of metal in the kitchen is becoming less obvious and more subtle. You will see details like oil-rubbed bronze faucets and metallic range hoods. Metal is used more as an accent and less of a focal point.
2. Tasteful color choices:
Less is more in today's kitchens, and this is made clear in the color choices seen on the walls and cabinets this year. Natural hues and soft neutrals, flanked by shades of white and cream, are the most commonly selected colors for kitchen remodels today. White and gray painted kitchen cabinets are still very popular, but these choices always should reflect the architecture and location of your home.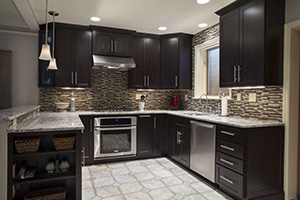 3. Open kitchen layouts:
The push for an open kitchen layout has been coming for a long time. Contractors are now frequently asked to knock down walls, so homeowners may enjoy the convenience of a kitchen that provides space to work and mingle with others. This preference for openness is reflected in small details, like the open cabinetry and open shelving that has been popular for the last several years.
4. Complex lighting decisions:
Gone are the days when it was enough to install recessed lighting in the ceiling and an overhead lamp near the table. Homeowners now seek complex lighting arrangements, complete with natural light from large windows, lit areas beneath and inside the cabinets, and a series of light fixtures on the ceiling.
5. Contrasting textures:
Using a variety of materials for your kitchen remodel places many contrasting textures side-by-side. From brickwork to hardwood to granite and more, contrasting textures add movement to the room, keeping the eye flowing from one wall to another. Textures add visual interest and richness to the kitchen landscape.