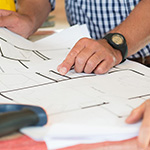 How to choose a contractor for your remodel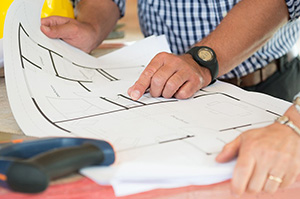 Spring and the warm weather that comes with it are right around the corner, making this the perfect time to plan that remodel project you've dreamed of for your home. The first place to start is by finding a contractor who can complete your project on time and on budget, but finding the right skilled professional can be a challenge.
Because your home remodel is too important to leave in the hands of an unqualified contractor, it's vital that you select the right company for the job. Here are six tips on how to choose a contractor for your project…
1. Ask people you trust:
Referrals are good, but they aren't very meaningful unless you can trust the person's instincts and standards. Talk to those you know who have high expectations for the appearance and functionality of their property. It's best if you can ask people who recently have redone parts of their home and you've seen the results for yourself.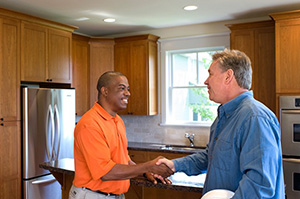 2. Do research:
Discover what makes each contractor uniquely qualified for your remodel. Check each contractor's rating with the Better Business Bureau, and find out if your contractor has been given awards or accolades for work done in the past. There may be ratings and reviews online from previous customers. Reading through these ratings can be revealing, but all reviews should be evaluated critically and with the understanding that they can be misleading.
3. Sort through portfolios:
Many contractors publish pictures online of previous work. For contractors who don't post pictures on their websites, ask to see photographs of relevant, recent work. When reviewing photographs, look for more than just quality. Evaluate the style of each contractor, so you can pick a contractor whose work will match your tastes, as well as your needs.
4. Visit the showroom:
If the contractor has a showroom, stop by for a visit. Looking at the showroom will give you an idea of the quality of each contractor's work.
5. Interview candidates:
Set up a time to meet with each individual contractor in your home where the remodel will be performed. Have a list of questions to ask each person. If you're not sure which questions to ask, inquire about previous jobs, how their work experience will inform their management of your remodel, and how they would solve the problems your remodel presents. Asking each contractor the same questions will help you evaluate the candidates.
6. Read the warranty:
Every contractor should guarantee their own work. Ask to see each contractor's warranty. Some warranties may be written in language that's difficult to understand. Ask questions and record the answers when you encounter parts that you find confusing.