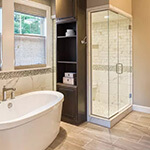 Read this before you remodel your master bathroom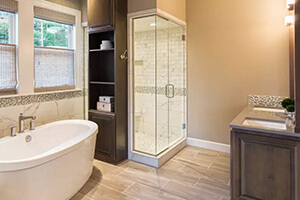 Your master bathroom is supposed to be an oasis of calm, a haven of happiness, a sweet escape from your otherwise hectic life. Yet why do you find yourself spending as little time as possible in yours? Perhaps it's the leaky toilet, lack of counter space, or the grimy grout?
Whatever the reasons, if your would-be retreat is a major sore spot, you are not alone. Bathrooms are second only to the kitchen on people's wish list of rooms they'd love to remodel. However, a master bath remodel is no small undertaking, nor is it a small investment of time and money.
To help things go a bit more smoothly, consider the following tips for remodeling your master bathroom: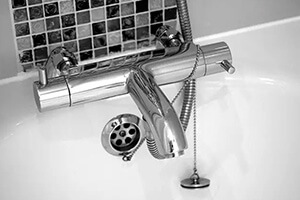 1. Determine why you want to remodel: Something brought you to this decision to remodel. Are the fixtures outdated? Is the tub too small? Have you realized that you don't even use your tub and would rather have a bigger shower? Does your current bathroom lack storage or counter space? Now that the kids are grown, do you want more of a "spa retreat" feel to your master bathroom?
Understanding exactly what you don't like about your current bathroom and what you want the remodel to accomplish will go a long way in helping you set a budget, choose materials, hire the right contractor, and so on.
2. Set a budget: How much should you spend on your master bathroom remodel? According to the National Kitchen & Bath Association (NKBA), a good rule of thumb is that the entire project – including materials and installation – should cost no more than 5 to 10 percent of your home's value.
Put your expectations into perspective when it comes to deciding how much you are willing to invest. The size of the space you have to work with, the quality of materials you want to use, and the cost of labor can all affect the cost of a remodel.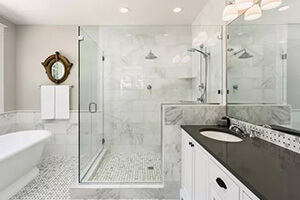 3. Make a plan: Imagine your typical morning routine and what the ideal bathroom layout would be. Because bathroom doors are often left open, you'll need to consider what you want the focal point of your new bathroom to be. Chances are, it isn't the toilet! However, plumbing considerations will have an impact on where you place the toilet, shower, and tub. If you're doing more of a cosmetic update, then moving the toilet is going to be expensive. On the other hand, if it's a major remodel, then moving the toilet is a small price to pay for achieving a more efficient floor plan and a more private toilet area for your new bathroom.
Also, assess how you use current fixtures – like the bathtub. Many people are opting out of a tub in lieu of having a larger, more luxurious shower.
4. Incorporate plenty of storage: When considering cabinetry, get as much storage space as possible while still enhancing your decor. If you have the space, tall armoire-like cabinets between two sinks. Additional floor-to-ceiling storage on one wall can help keep vanity storage from becoming overcrowded.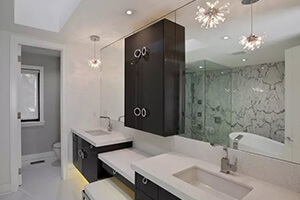 5. Know your surfaces: When it comes to bathroom flooring, while you'll find a variety of options to fit any budget and style, stick with materials that are able to withstand moisture, look attractive, and feel good under your bare feet.
Ceramic tile is a popular choice, and a more textured surface will make it more slip-resistant. Vinyl is a favorite for the budget-conscious, and it comes in wide sheets or tiles. Both are easy-to-clean, moisture-resistant and soft underfoot.
6. Lighting: Choosing the correct lighting is crucial in the bathroom, where mirrors are present and mood is key. Tranquil blue wall paint seems like a good idea, but combined with blue-hued fluorescent lighting can leave you looking like the bride of Frankenstein when you glance in the mirror. Instead, opt for task lighting around the vanity and shower/tub areas, and recessed lighting overhead for general illumination.
7. Good ventilation: This is one area of your bathroom remodel that you don't want to skimp. It's worth spending the extra few dollars on a good ventilation fan to prevent future mold growth and paint peeling.
8. Add drama with fixtures: Just as jewelry can to an outfit, plumbing fixtures — the "jewels" of the bathroom — can add a dramatic effect to your new space. Keeping in mind your motif and potential maintenance, there are myriad finishes and styles from which to choose.