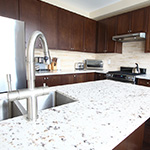 Quartz: The hot trend in kitchen countertops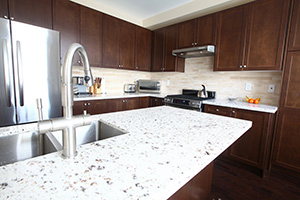 Whether you're a busy mom packing lunches, making dinner on-the-go and filling endless bellies with snacks, the empty nesters looking to upgrade, or single and living in style, quartz countertops have features for everyone, making them the hot trend in kitchen countertops.
From durability and maintenance, to trendy color options and high-end style, quartz should be number one on your list for countertop consideration when it comes time to renovate or upgrade your kitchen, and here's why.
Man-made durability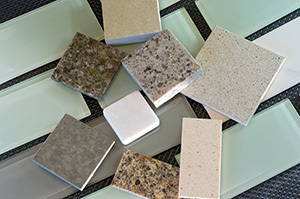 Quartz is a manufactured countertop option made from ground quartz mixed with resins, polymers and pigments. This manufacturing process makes quartz more durable than other hard-top surfaces, even natural stone, which means it's less prone to chips and not as fragile.
Some manufacturers of quartz also provide a warranty on the product, something that won't come with natural surfaces.
Beautiful style
As part of the manufacturing quartz, pigments can be added to the natural quartz, giving it more color than natural stone. Subtle hints of greens, blues and yellows give quartz a more versatile color palate and can make matching any kitchen design a breeze.
In addition to color choices, patterns in the quartz can be made more intentional during manufacturing than those in natural stone. This can make hiding the seams much easier, giving the look of a single solid surface. There also are more finishing options for the edges of quartz countertops.
Low maintenance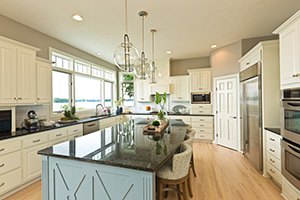 The resins and polymers included in the manufacturing process for quartz not only make it durable, it means there is no need to seal the material as is the case with other surfaces. With quartz, you won't have to worry about having a contractor in your home every five to seven years to reseal the tops.
Because quartz is non-porous and doesn't require sealants, it also resists staining from oils, wine, sauces and spices more than other tops on the market. And maybe more important than staining, the non-porous surface means that it's easier to keep quartz countertops free of germs, viruses and bacteria, because there's no place for them to hide. Simply cleaning with soap and water will keep your countertops clean and safe for everyone in the family.
When it's time to replace or purchase new kitchen countertops, use quartz as the gold standard and compare all your other choices to the durability, beauty and low maintenance benefits of quartz.
With so many decisions to make in a kitchen renovation, simplify the process ahead of time by doing your research and working with a professional contractor. A skilled and experienced contractor can help you determine which quartz products will provide the finishing touch you're looking for in your kitchen and ensure that the installation is done right, so you can enjoy your new kitchen for years to come.