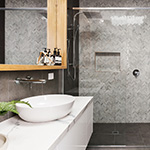 6 Things your Bathroom Remodel Plan Should Include
No renovation should be tackled without lots of planning, but knowing where to start with any project, especially if you've never done one before, can be a challenge. While bathrooms are typically small rooms in the home, by comparison, that doesn't equate to a small renovation project.
Before cabinets and walls are demoed, flooring is ripped up and the old toilet carted away, do some research to know what you need, what you don't, what you love, and what you can live without.
Here are six considerations to take into account before you begin your bathroom remodel, whether it's for a small powder room, large master bath, or something in between.
1.Build a budget: Every renovation project needs a target budget. With home improvement, the sky's the limit when it comes to fancy fixtures and finishes or ideas you can dream up. The best way to hone in on your renovation specifics is to set a budget. Some experts recommend bathroom renovations cost no more than five-to-10 percent of your home's value. No matter what budget you set, be sure to stay true to the value of your home, being careful not to overspend for your neighborhood.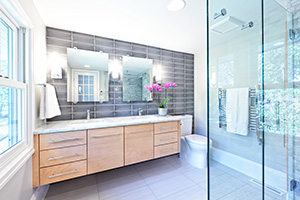 2.Address the layout: One way to keep costs in check is to keep the same footprint of your bathroom, meaning the toilet, sink, shower and tub stay in the same place, eliminating the cost of moving pipes. However, a renovation is the best time to dream. If you want to take square footage from an adjoining room to convert a powder room to an en suite master bath, changing the location of the plumbing might be the only way to achieve your goal. Either way, take time to evaluate the function of the space and design it to meet your needs.
3.Question the status quo: One vanity or two, shower and tub combo, separate shower and tub, no tub and only a shower – the options are endless. Many homeowners are choosing to eliminate the bathtub because it is used so infrequently, and create a beautiful shower surround instead. And when it comes to the shower, do you want one showerhead or two? A glass surround or a shower enclosure? A renovation is the time to question the current set-up and transform it into anything you want.
4.Challenge the lighting: Before you change anything in your current bathroom, use the room at night and determine if you have adequate lighting. There's no better time to add lights to any space than when the walls are open. Do you want can lights through the space or a simple overhead light with fixtures above the vanity? Keep in mind overhead light will cast a shadow on your face, so vanity lights should always be mounted inline with the mirror.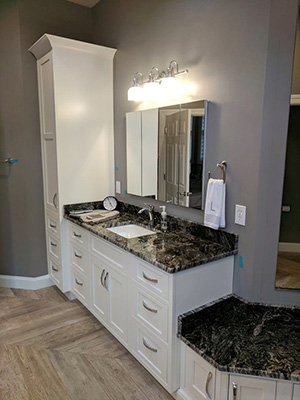 5.Maximize the space: Notoriously small spaces with many functions, bathrooms require lots of storage. Do you want a stylish mirror or a vanity, and can that vanity be recessed into the wall? Do you want a double vanity with plenty of storage, or a sleek pedestal sink to create the illusion of more space? Is the room large enough for other cabinetry, in addition to the vanity, and can those cabinets be recessed as well?
If this is a home you will retire in, the bathroom renovation might be an opportunity to maximize the space for the future, too. Taller toilets and vanities can help with aging, reducing the distance required for bending for the knees and low back. A walk-in shower with grab bars also should be considered.
6.Add a little luxury: From radiant floor heating to towel warmers, add some luxury features during the renovation. Electric resistance heat panels under the floor can warm your bathroom tile with the flip of a switch. Towel warmers can be strategically placed, and waterfall faucets, elegant light fixtures, and other little fancy finishes can turn your renovation project into a masterpiece.
Don't skip the planning step in a bathroom remodel. In fact, starting the planning earlier than you think and spending a little more time considering all the options is the best way to guarantee a successful renovation project. Include an experienced professional contractor in your process, then relax and enjoy your new spa-like bathroom.